By Priyanka Venkannagari
---
From November 8th-10th, researchers, students, entrepreneurs, innovators, field practitioners, and private sector professionals convened at the Higher Education Solutions Network (HESN) coference, TechCon 2014 in Berkeley, California. TechCon showcased innovations emerging from the eight HESN Development Labs and the broader development and higher education communities focused on innovation for social good. These various stakeholders met to energize science and technology solutions for development. We will be featuring blog posts from Duke students reflecting on their weekend at TechCon.
---
What's in a word?

I had never really heard the word resilience used until this conference, especially not in the context of global health. Resilience is often used in the context of talking about coming back from a fight or not letting adversity hinder your goals. Resilient Africa Network, a partnership of 20 African universities focused on nurturing and scaling innovation, describes resilience as "the capacity of people and systems to mitigate, adapt to, recover, and learn from shocks and stresses in a manner that reduces vulnerability and increases wellbeing." At first I wondered if the usage of the term was simply jargon, but by the end of the conference I know it was much more than that.

The power of language and the power of storytelling is something that was discussed multiple times. It wasn't until after the fact that I understood the importance of the term "Resilience". Resilience stands for knowing there is a long was to go but willing to put in the energy to get there. Resilience stands for not letting difficulties halt the course of advancement. Resilience stands for a lot of other things too but most importantly it's a symbol of solidarity and empowerment. Having such a powerful term makes the cause seem stronger. It sets the stage for the future of international development and presents the ideals that are going to be at the core of the field.

The power of language and story telling cannot be undermined in what is to be the future of the world. How else can you captivate people to believe in a cause? One of the sessions we were asked to identify a goal we want to achieve in the next 5 years, the people who we are going to have to work with, the barriers we are going to face, and the principle we will use. I didn't know what to say, because I had not idea what my goals are. I do not know where I will be in 5 years and I am ok with that.



At the same time I know how important it is to define your goals. This is where the language comes in. Especially for a task as large as poverty reduction you not only need goals to mark success but to also make a statement for the work you are doing. It is important to make sure the importance of the work in international development is not taken lightly. This is why "resilience" means so much, because it creates that human reaction that makes people what to be a part of the movement. I do hope to see a resilient world one day and I think huge strides are being made in that direction.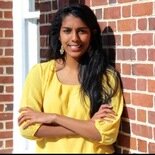 Priyanka is a current sophomore in Economics with a minor in Global Health and a certificate in Innovation and Entrepreneurship. She is really interested in the ways businesses and public-private partnerships can help improve and empower the world.